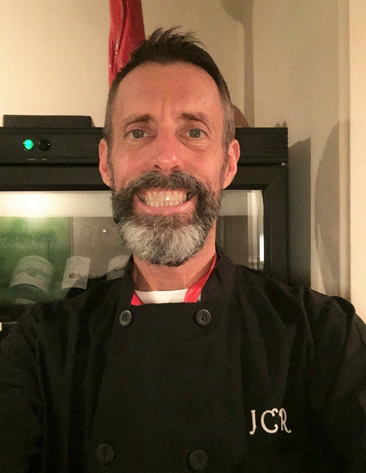 Chef James (he/they) is a 35-year veteran of the food service industry, the majority of those years spent managing various restaurants in the Midwest. In 1998, James was given the opportunity to rediscover his passion for cooking when he was hired as a private chef for a small financial consulting firm, Flow Trading. Flow's president was vegan and in search of providing healthful, plant-based meals to the company's employees. Chef James had found the perfect niche to showcase his talents.

Eschewing formal culinary schools, Chef James chose to learn by doing. "I've been cooking all my life, and have developed a culinary philosophy around creating exquisite, interesting whole-plant food cuisine, using high-quality, seasonal ingredients. I am truly grateful for all the experiences and opportunities that have come my way."

A stage at Grant Achatz's Michelin 3-star restaurant "Alinea" and a try-out for Gordon Ramsey's reality TV show, "Hell's Kitchen" reinforced Chef James's opinion that cooking should be an enjoyable art form, not a competition or a fear-based rapid-fire drill!

After James met Dr. Joel Fuhrman in 2005, it made sense to follow a whole-plant-food, no SOS, "Nutritarian" lifestyle. So he set out to "Nutritarianize" his recipes and cut out the sugar, oil, salt, and other vegan junk foods from his diet. He has been giving cooking demonstrations and supervising the hotel kitchens at Dr. Fuhrman getaways since 2011.

Chef James has earned certification in Plant-Based Nutrition from the T. Colin Campbell Center for Nutrition Studies at Cornell University, is a featured chef in Dr. Fuhrman's Nutritarian Education Institute (https://www.drfuhrman.com/library/nutritarian-education-institute/programs/5/the-art-of-nutritarian-cooking), and holds a Food Service Manager Sanitation Certificate for the State of Illinois and the City of Chicago.

James's other passions include music (he has a Bachelor of Music-Performance, clarinet, from U.W.-Madison), tennis (he is a USPTA certified tennis teaching professional), art (he curates a small gallery devoted to artists recovering from drug/alcohol abuse), running (he is currently training for marathon #4), and fitness (he was formerly an ACTION certified personal trainer).